TOP

(Bird Calls)
'Oppun towis friends,
You've seen the labels on our wines, the natural beauty of the birds, and maybe, made a subtle connection between the beauty of birds and the beauty of wine. But there is an origin story to every wine label and as such, I wanted to bring you the origin story of Sokootok (shoh-koh-tohk) our Rhone-style blend.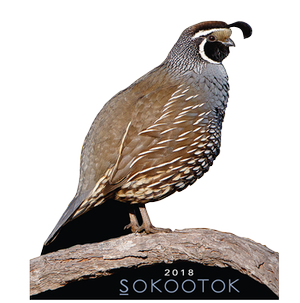 When I set out to make this wine in 2018, I had no idea what bird I was going to use. Meyye wasn't even founded yet and I was still the owner/winemaker at Story Winery. Sokootok is a blend of five different wines, two of which are purpose-built for this wine: Grenache and Counoise (coon-wahz). The other three are Syrah, Petite Sirah, and Zinfandel (or Mouvedre). The blend is styled after the wines from Chateauneuf-de-Pape, which is both a region in France and a wine. Up to 17 different varietals can be used to create a Chateauneuf-de-Pape wine in France. This means there is great variation from producer to producer. After much enjoyable research, I settled on a Grenache-centered blend comprising at least 50% of the final product with the remaining percentages dominated by Syrah. Each wine lot is fermented and aged separately for the first year (the Grenache and Counoise are stored in stainless steel barrels). During the beginning of the second year, the wines are blended in varying percentages to achieve a consistency year to year. The blended wine is then returned to neutral oak barrels for additional aging and maturation.
So, what does any of this have to do with the California Quail? It just so happens that Meyye, which means 'bird' in Coast Miwok, was coming into fruition. When it was time to decide on the second bird in the collection, it was an easy choice. The California Quail was my mom's favorite bird. Meyye would not exist if it wasn't for her. She was instrumental in resurrecting the Coast Miwok language through our tribal language program and her work inspired me to pay homage to my tribe and heritage with this brand. I owe a great debt of gratitude to her. Someone who inspired me, supported me (emotionally and financially), and literally gave birth to me. And so, I wanted to honor her by putting her favorite bird on the label. People told me I was crazy for putting an unpronounceable name on a label. But I didn't care, I did it for Mom. So please join me in raising a glass to toast my mom, Joanne Campbell, who I miss each, and every day.