(pronounced may-yay)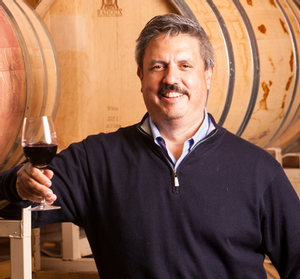 Rob Campbell, founder and winemaker, starting making wine in 1992 with his eventual father-in-law Bruce Tichenor at Story Winery in Plymouth, CA. Working side-by-side with Bruce, learning and watching his passion for winemaking, gave Rob an idea—he could do winemaking for a living at some point. It took 20 years and three other careers (professional musician, high-tech product manager, audio engineer/educator), before he decided it was time.
In 2013 Rob took over winemaking duties at Story Winery full time and retooled the facility. In 2014 he had an idea for an ultra-premium zinfandel but it would literally take years to complete. When the family decided to sell Story Winery in 2019, Rob asked that his premium zinfandel, now called Palachchak (pah-laht-chahk), be seperated from the sale and used as an anchor for a whole new line of wines to celebrate his Native American heritage and language.
Founded in 2020, Meyye Wines was created to fulfill this dream. Fruit is sourced from renowned vineyards in Sonoma and Amador County and meticulously turned into wine. Barrel selection and extended aging are hallmarks of these wines. After extended aging, both in the barrel and the bottle, the wines are released through an allocation list. The word "meyye" is Coast Miwok for bird. Each wine features a bird native to Sonoma county as is Rob's Coast Miwok and Southern Pomo heritage.