TOP
February 28, 2022 | Rob Campbell
Coming out of the Fog
Oppun Towis Friends,
As this Spring approaches, it finally feels like we are emerging from the hazy fog of COVID and things are starting to feel like normal. During the past two years we remained busy in the cellar creating our newest wine, a Pinot Noir from the Petaluma Gap AVA of Sonoma County called 'Omay. You're probably full of questions…A pinot? Petaluma Gap? And, why is it called 'Omay? So, let's explore all those questions together.
Why a Pinot?
Simple…because me and Tina really love pinots. As a winemaker, I wanted to take on the challenge of working with the 'diva' of the wine grape industry. After consulting with many winemaking friends and reading everything I could about pinot production, I realized why it's such a diva. Think handling the fruit with kitten gloves, meticulously managing the pre-soak fermentation, the right yeast for fermentatio, and sourcing the best possible oak you can—all the while thinking "DON'T SCREW IT UP". But honestly, it all starts with the fruit.
Why Petaluma Gap AVA?
When setting out to make a pinot, I wanted a specific clone for my first pinot—one of the original pinot clones from Burgundy called Pommard. And, I wanted it from Sonoma Carneros. Carneros Pommard fruit was hard to come by in 2019 so I was introduced to the recently designated Petaluma Gap AVA by my friend Mike Sangiacomo who's family farms roughly 1,300 acres throughout the entirety of Sonoma County. The Petaluma Gap AVA is in the southern end of Sonoma County (see map below)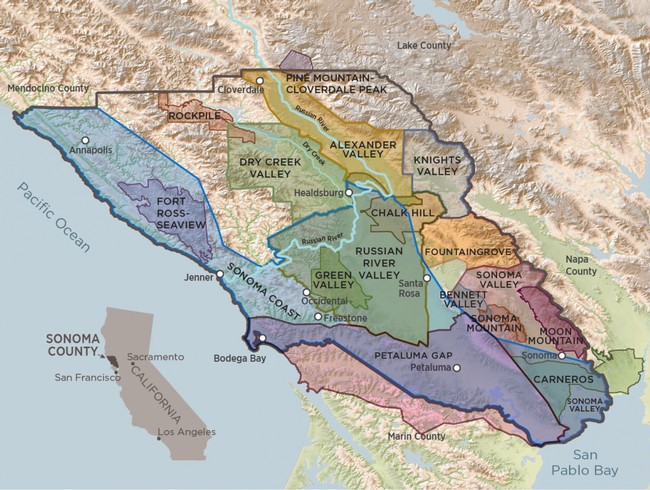 Map courtesy of sonomawine.com
This specific vineyard location, Robert's Road, is part of Sangiacomo Vineyards and is located at the north-east corner of the AVA at the base of Sonoma Mountain in an ancient river wash basin. One of the advantages of this region is that you get the best of two worlds – the earthiness of the Russian River Valley AVA and the fully ripe fruit characteristics of Sonoma-Carneros. It enjoys regular afternoon breezes coming over the hills from the ocean but is far enough inland to have the heat to fully ripen. This fruit is meticulously grown and sourced by many prestigious Pinot houses. I felt lucky to even have access to fruit from this vineyard. Aged for 14 months in 40% new French oak, I feel this wine really represents what Sonoma County pinot is all about.
Why is it called 'Omay?
'Omay (oh-may) is the Coast Miwok word for the Brown Pelican. When thinking about a bird for this wine I wanted to use a coastal bird. My native Californian family descends from the original inhabitants of Sonoma. Whether at the coast near Jenner, or the villages at Tolay Lake near the top of the Bay (which happens to be the picture on the Meyye home page), I wanted a bird that my family identifies with and the good tidings that pelicans bring. Their majestic flight, their presence indicating fish are running, and those flight formations of a dozen giant birds flying inches from the surface of the ocean always bring a smile and a sense of awe as they fly by.
We hope you bring some of this wine into your house and share with your best friends and family.
Rob & Tina
Comments
Commenting has been turned off.